Review: The Name of the Star by Maureen Johnson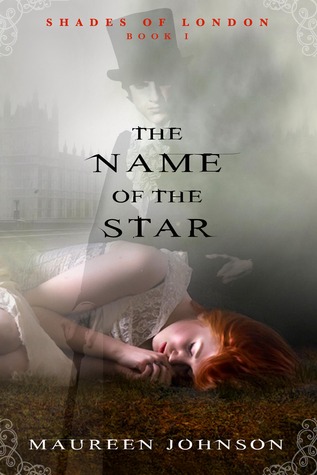 The Name of the Star (Shades of London, #1)
by Maureen Johnson
Genre: paranormal, mystery, thriller
Topics: ghosts, Jack the Ripper
Publication date: September 29, 2011
Publisher: Putnam Juvenile (Penguin)
Pages: 372
Format: Hardcover
Source: Bought
Links: The Book Depository | Goodreads
SYNOPSIS: The day Louisiana teenager Rory Deveaux arrives in London marks a memorable occasion. For Rory, it's the start of a new life at a London boarding school. But for many, this will be remembered as the day a series of brutal murders broke out across the city, gruesome crimes mimicking the horrific Jack the Ripper events of more than a century ago. 
Soon "Rippermania" takes hold of modern-day London, and the police are left with few leads and no witnesses. Except one. Rory spotted the man police believe to be the prime suspect. But she is the only one who saw him. Even her roommate, who was walking with her at the time, didn't notice the mysterious man. So why can only Rory see him? And more urgently, why has Rory become his next target? 
THOUGHTS: I don't really know how I feel about this book. I mean, it was good, and worth reading, but I just.. I… Um.
Well, first of all, I love the cover. It's beautifully designed, and very ghostly. Though the picture of the girl on the front, which is, I guess, supposed to be Rory, isn't correct because Rory has dark brown hair, and it also just has nothing to do with the book at all… And the guy on the cover who is, I guess, supposed to be the ghost-Jack the Ripper doesn't look like he's described in the book either, but maybe it's the real Jack. Which also doesn't make any sense, but whatever. IT'S STILL PRETTY.
There is kind of a romantic sub-plot in this book, which was okay. I liked the love interest, but he wasn't spectacularly awesome or something. The love story didn't have much depth and I hope that's going to get a little bit better in the next book in the series (trilogy?). I did really like Jerome's 'obsession' with the Ripper murders, which was a very good way of letting us, the readers, know what's going on and give us some background information.
The main character, Aurora, or 'Rory', was you know… good. Normal. Annoying at times, but really brave and awesome and badass other times. The first time she sees a ghost, it's really obvious to us, but Rory just doesn't see, I guess because she doesn't believe what she's seeing, which got on my nerves until she finally accepted her ability. Though I must say that the whole reason how and why Rory can see ghosts, is just a little bit ridiculous. But I guess you'll find out when you read the book.
(That was not really a spoiler, but it doesn't say the ghost thing on the back… It's probably quite obvious though because of the cover.)
Jazza was a cool character, but again, didn't have much depth. She was just there. Also, her full name is Julianne, which I thought sounded much prettier than 'Jazza'. Like, seriously, why would you call yourself Jazza when you have an okay name? Then there's Boo, who is kind of weird at the beginning and you don't know much about her—she's quite mysterious, but after a while, I started to like her a lot more when I knew what the fuck was going on. 
I didn't feel like I completely and utterly fell in love with the characters and connected to them, but they weren't bad either. It was just good, and I found them interesting enough to keep reading. But what happened was… Um, you know those books when at first the friends of the protagonist are like really important and then she has this whole paranormal thing going on like falling in love with a vampire or seeing dead people some shit, and her friends just conveniently disappear because the whole thing is focused on the scary stuff? Yeah, that. Jazza and Jerome don't think too much of Rory hanging out with Boo so often and they don't ever ask her where she's been and what she's been doing and how concerned they are or whatever, which was quite bad. 
Also, warning: if you are scared of ghosts and stuff easily, don't read this at night or before you go to sleep. I did that, and even though none of the horror/thriller films I've ever seen have really scared me, it was creepy. And I don't even believe in ghosts!
★★★★☆ (3.5/5 stars)
(Also check out Maureen's Twitter. She's hilarious.)
QUOTE: "Fear can't hurt you," she said. "When it washes over you, give it no power. It's a snake with no venom. Remember that. That knowledge can save you."
She introduced herself to my parents with one of her mighty, bunny-crushing handshakes. (I'd never seen Claudia crush a bunny, to be fair, but that's the approximate level of pressure.)
"And what else is she?" Jerome asked. Jazza didn't offer any reply so I chimed in with, "A bitchweasel?"
"A bitchweasel!" Jazza's face lit up. "She's a bitchweasel! I love my new roommate.
You will probably like this book if you liked:
+ Anna Dressed in Blood by Kendare Blake
+ The Near Witch by Victoria Schwab
+ Frost by Marianna Baer